One of the world's most extraordinary beauty oils – which in the reality is liquid wax and basically this is where it's incredible properties come from. Actually, this is the only such oil that is able to adjust to skin and hair type. This quality is owed to squalene which concentration in Nanoil Jojoba Oil is really high. The action of jojoba oil isn't disturbed by any additives or synthetics, hence Nanoil Jojoba Oil presence in this ranking. When it comes to hair care – there's a lot to be said. However, apart from improving hair appearance, Jojoba Oil by Nanoil should be found useful in skin care too.
Keep reading to find out how this one of a few most popular vegetable oils work.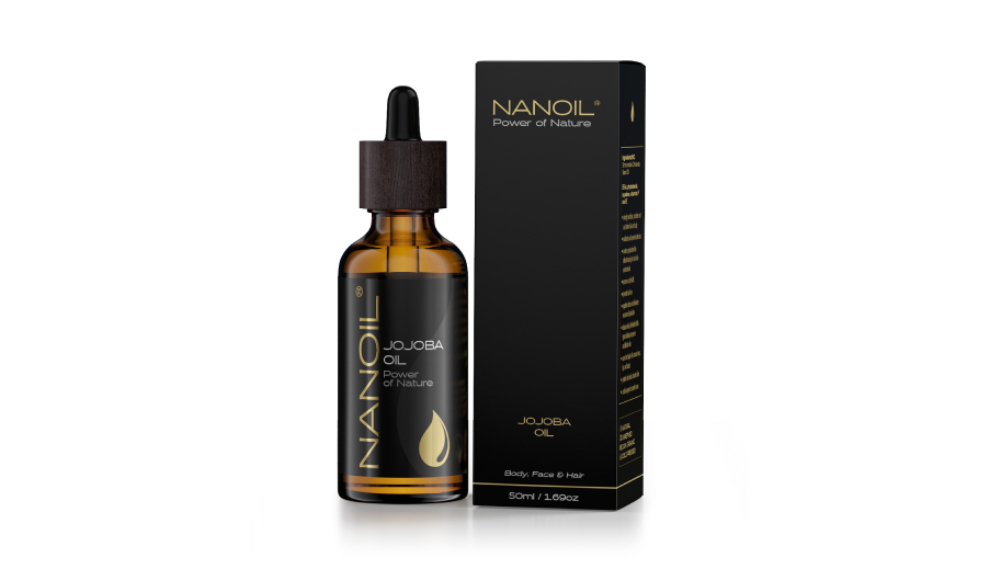 Nanoil Jojoba Oil – action and properties
Liquid wax of excellent quality. Its beneficial action isn't limited to hair care only. Therefore, in order to take the most of pure jojoba oil, it's better to learn this substance beauty benefits. First of all, Nanoil Jojoba Oil moisturizes and prevents water loss, nourishes strongly, smooths out and softens both hair and skin. Secondly, this natural substance extracted from gray box bush nuts creates a microscopic layer responsible for protecting hair and skin. Thirdly, jojoba oil regenerates, combats dryness, takes care of scalp and, consequently, prevents excessive hair loss. Furthermore, Jojoba Oil by Nanoil balances sebum secretion, which translates into fighting back troublesome greasy scalp problem. Also, the oil is able to maintain the adequate level of skin's pH. This natural substance also serves acne and delicate skin well. Nanoil Jojoba Oil conditions hands, feet and nail plates. Additionally, it protects hair ends, leaves them shiny and smoothed out. Finally, Jojoba Oil by Nanoil is antibacterial and should be found useful in ageing prophylaxis.
Nanoil Jojoba Oil – use
Unlimited possibilities in body and hair care, a wide range of effects and being multi-tasking make Jojoba Oil by Nanoil one of the finest natural cosmetics. Here are the basic applications of Jojoba Oil by Nanoil:
solo, directly to skin, hair and fingernails
as an extra ingredient added to either regular or homemade masks, scrubs, hair conditioners, body balms, etc.
to create almost all types of D.I.Y. cosmetics
as a carrier oil
to body balm in order to improve skin suppleness and smoothness
as an anti-cellulite and body lifting massage oil
for a bath (body, hand, foot) or directly to bathwater
for hair oil treatment, as a hair mask, hair end serum
as after-shave or after-sun cream
to take care of face, neck and cleavage (solo or as a serum applied prior to a regular cream)
as a serum improving eye skin (it smooths out, reduces wrinkles)
to remove makeup due to OCM
as a nail regenerating conditioner
as a beard oil
Nanoil Jojoba Oil – ingredients
This word-recognized, liquid wax is a source of precious unsaturated fatty acids (EFAs) and plant sterols displaying anti-ageing properties. Also, jojoba oil contains huge amount of squalene which structure is similar to human sebum. Thanks to this quality, jojoba oil is able to improve the state of skin, scalp and hair. Moreover, pure jojoba oil equals vitamin E abundance, which potent anti-ageing properties haven't been outclassed yet by any other substance.
Nanoil Jojoba Oil – where to buy it?
This natural cosmetic can be bought online, on the official website. This oil by Nanoil can be also bought in e-shops selling beauty and hair care products.
Benefits:
big size (50 ml) when compared to other natural oils having 30 ml or 15 ml
Ecocert label
cost-effective
organic, pure, unrefined and cold-pressed oil
multitude of uses (body, face, hair and fingernails)
serves all types of skin and hair
one of the best oils to fight back acne with
a good constituent of homemade cosmetics
makes skin more supple and erases wrinkles
eliminates stretch marks and scars
ideal to be used as night and day serum
prevents hair loss and reinforces follicles
leaves strands shiny without overburdening them
Drawbacks:
only one size
mind the glass bottle, it may break
can't be bought in regular shops