Argan oil is the best, highly recommended and the most frequently chosen hair oil. The one launched by Nanoil won a high place in the ranking because of the incredible action it offers. 100% organic argan oil bearing Ecocert label – it can be no other oil but Nanoil.
This natural cosmetic is extracted through cold pressing process, in unrefined and, additionally, it's perfectly suitable for taking care of hair, body, face (including delicate eye skin) and fingernails.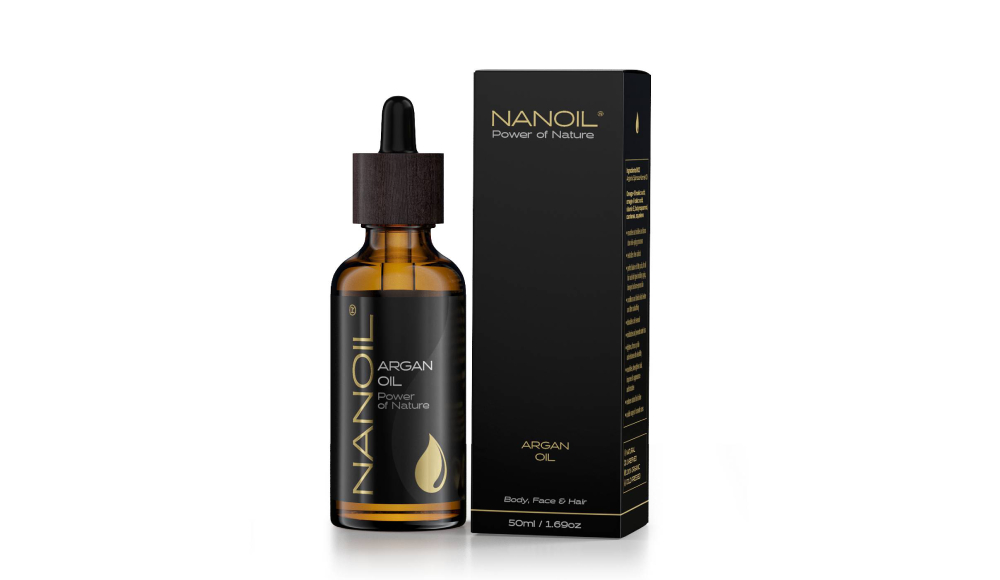 Nanoil Argan Oil – action and properties
Argan Oil by Nanoil does more than just beautify and tame unruly hair. It's proven that this oil is able to protect strands against damage, regenerate them fast and leave hair smoothed out. This in turn prevents frizz and static. Basically, Nanoil Argan Oil serves well delicate and thin hair/scalp that is sensitized. Also, this oil copes with damaged, rough, dehydrated and thinning hair. The truth is, argan oil offers an unique balance of omega-3 and omega-6 fatty acids that plays in tune with our organizm, reinforces cells, prevents ageing, sweeps away free radicals and accelerates skin/hair self-renewal processes.
Moreover, argan oil happens to be a potent substance that color-treated hair favors. To clarify, natural argan oil intensifies colour, prevents damage, boosts shine and combats color fading. Nanoil Argan Oil is lightweight, easily penetrates through keratin structures, regenerates, strengthens, shields as well as significantly improves looks and state of hair.
Nanoil Argan Oil – use
Basically, use of Nanoil Argan Oil is unlimited. Not only does it take care of hair but also skin; the spectrum of its application is so vast that one could write a thick book about it. Below you're going to find the most common uses of Argan Oil by Nanoil in terms of hair and body care:
solo, directly to skin, hair and fingernails
as an extra ingredient added to either regular or homemade masks, scrubs, hair conditioners, body balms, etc.
to create almost all types of D.I.Y. cosmetics
as a carrier oil
to body balm in order to improve skin suppleness and smoothness
as an anti-cellulite and body lifting massage oil
for a bath (body, hand, foot) or directly to a bathwater
for hair oil treatment, as a hair mask, hair end serum
as after-shave or after-sun cream
to take care of face, neck and cleavage (solo or as a serum applied prior to a regular cream)
as a serum improving eye skin (it smooths out, reduces wrinkles)
to remove makeup (OCM)
as a nail regenerating conditioner
as a beard oil
Nanoil Argan Oil – ingredients
Organic, and appropriately obtained Nanoil Argan Oil has over 100 active substances responsible for beautiful and youthful look of hair and skin. One of the best 'cocktails of youth' that you could imagine. The most essential ingredients of Argan Oil by Nanoil are: squalene, butyrospermol, phytosterols, flavonoids as well as a high concentration of vitamin E. Still, the most important though are perfectly balanced omega fatty acids. Undoubtedly, they are crucial for hair, skin and fingernails to function properly.
Nanoil Argan Oil – where to buy it?
This natural cosmetic can be bought online, on the official website. This oil by Nanoil can be also bought in e-shops selling beauty and hair care products.
Benefits:
big size (50 ml) when compared to other natural oils having 30 ml or 15 ml
Ecocert label
cost-effective
organic, pure, unrefined and cold-pressed oil
multitude of uses (body, face, hair and fingernails)
argan oil receiving favorable reviews
efficient, easy application
intensively beautifies and regenerates hair
one-of-a-kind composition and perfect EFAs balance
high concentration of vitamin E
has an incredibly positive effect on body, face and nails
Drawbacks:
only one size
mind the glass bottle, it may break